IMPORTANT: For Graduate Studies matters (Associate Chair) contact me at gchair@sce.carleton.ca
Basic questions about the program? Read http://carleton.ca/sce/graduate-studies/ carefully.
Did you read all the pages in detail, and now you have detailed questions about the program? Contact gradadmineng@carleton.ca

Research Interests
- DEVS formalism
- Real-Time modelling
- Cellular models
- Modelling and simulation methodologies and tools
- Parallel/distributed/Web-based simulation

- Keynote Speaker at Simultech 2018, Porto, Portugal. 2018
- Keynote Speaker at 22nd International Conference on Circuits, Systems, Communications and Computers (CSCC 2018), Majorca, Spain, 2018.
- Keynote Speaker at Ninth International Workshop on Simulation, Barcelona, Spain, 2018.
- Program Chair at Winter Simulation Conference (WinterSim) 2017, Las Vegas, NV
- According to the Microsoft Academic Research portal, Prof. Wainer is the No. 3 Simulation researcher in the world (July 2016).
Tweets by @ARSLab_CU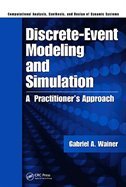 Book on Modeling and Simulation