IMPORTANT: For Graduate Studies matters (Associate Chair) contact me at gchair@sce.carleton.ca
Basic questions about the program? Read http://carleton.ca/sce/graduate-studies/ carefully.
Did you read all the pages in detail, and now you have detailed questions about the program? Contact gradadmineng@carleton.ca

Research Interests
- DEVS formalism
- Real-Time modelling
- Cellular models
- Modelling and simulation methodologies and tools
- Parallel/distributed/Web-based simulation

- Keynote Speaker at 2020 IEEE/SCS International Symposium on Performance Evaluation of Computer and Telecommunication Systems, Madrid, Spain.
- Keynote Speaker at IEEE MASCOTS 2019, Rennes, France. 2019.
- Keynote Speaker at EMENA-ISTL 2019, Marrakech, Morocco. 2019.
- Upcoming tutorials on DEVS and Cyber-Physical Systems at WinterSim 2019, National Harbor, Maryland. 2019.
- Member of the Organizing Committee at Symposium of Simulation in Architecture and Urban Design, SimAUD 2020, Vienna, Austria, 2020.
- Program Co-chair of Theory and Foundations of Modeling and Simulation TMS 2020, George Mason University, VA. 2020.
- Keynote Speaker at Simultech 2018, Porto, Portugal. 2018
- According to the Microsoft Academic Research portal, Prof. Wainer is the No. 3 Simulation researcher in the world (July 2016).
Tweets by @ARSLab_CU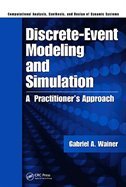 Book on Modeling and Simulation