Welcome to the ARS Lab
The Advanced Real-Time Simulation Laboratory (ARS) is an advanced Modeling & Simulation research laboratory, located in the Department of Systems and Computer Engineering, Carleton University, Ottawa, Canada.
Supervised by Prof. Gabriel A. Wainer
Our laboratory is investigating means of automatic generation of executable models derived from systems specifications. The research is based on the Discrete EVent System specification (DEVS) formalism, and will augment previous work with new theory, methodology, and supporting development tools. We are also interested in integrating the simulation results obtained with powerful 3D visualisation facilities.
We are studying new advanced techniques for:
a) timing constraints satisfaction in concurrent real-time models,
b) real-time distributed simulation techniques,
c) interoperability of executing models,
d) visualisation of systems outputs using advanced visualization tools,
e)   automated test case generation based on discrete-event specifications.
<![if !vml]>

<![endif]>
ARS Lab members' Graduate Students, January 2007


ARS Lab members' group picture, January 2007
<![if !vml]>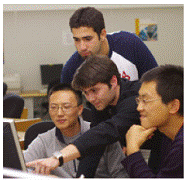 <![endif]>
August 2006