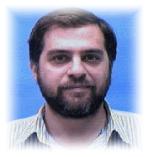 Ioannis Lambadaris, Ph.D
Professor
Department of Systems and Computer Engineering
Carleton University
1125 Colonel By Drive
Ottawa, Ontario K1S 5B6
Tel: (613) 520-2600 ext. 1974
Fax: (613) 520-5727
Office: C. J. Mackenzie Building, Room 4442
Email:

Skype: ioannis.l
ambadaris
Background Information
Professor Lambadaris has a M.Sc. degree in Engineering from Brown University, Providence, RI and a Ph.D in Electrical Engineering from the University of Maryland, College Park, MD. During his studies in Maryland he was at the Systems Research Center(now known as the Institute for Systems Research) under the supervision of Professor Prakash Narayan. At Carleton he received the Premier's Research Excellence Award (2000), and the Carleton University Research Excellence Award (2000-2001) for his research achievements in the area of modeling and performance analysis of computer networks.
Research Interests
Applied Stochastic Processes and Control


Performance Analysis of IP Networks

Cross Layer design for Wireless Networks

Wireless Ad-hoc networks

Network Security
Recent News and Announcements
For undergraduate students who want to start their 4th year project and have a GPA of B+ or (preferably!) more:
I am currently very interested in application development for the IPhone or the IPod-Touch, in particular, interfacing custom made transceivers to these devices for remote real time control and localization applications. If you are interested please contact me.